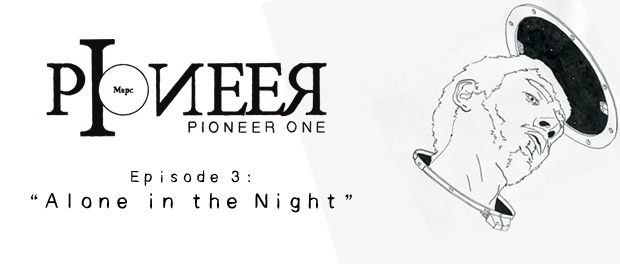 Pioneer One is a free (licensed under a Creative Commons Attribution Non-Commercial Share Alike license) series. They recently published their third episode on torrent networks and are raising money to produce the upcoming episodes. For more information, see their official page @vodo.net: http://vodo.net/pioneerone.
Synopsis:
A mysterious spaceship has entered Earth's atmosphere. A US Department of Homeland Security investigation has uncovered a live human being in a Soviet space suit in an unstable condition. A note in Russian, found at the crash site, claims the man is the child of cosmonauts living at a base on Mars.

Now quarantined to the Calgary base for two weeks, Taylor and his team have bought time to get answers from the supposed Martian cosmonaut. But who can get him to talk?
Since it can be uncomfortable to use peer-to-peer on some networks, I mirrored the episode on megaupload (merge using lxsplit or hjsplit):
NFO of the 720p version (just the text, I removed the ASCII art because it seems to kill any Atom/RSS parser, and I just hate it when this happens…):
TITLE..........: Pioneer One S01E03
DIRECTOR.......: Bracey Smith
YEAR...........: 2011
GENRE..........: Drama/Sci-fi
RUNTIME........: 32 min

LANGUAGE.......: English
AUDIO..........: AAC
VIDEO..........: H.264
RESOLUTION.....: 1280 x 720
SIZE...........: 1110 MB
OVERALL BITRATE: 4965 Kbit

RELEASE #......: 014
RELEASE DATE...: 2011-03-28

The PIONEER ONE story continues with new 
episode 'Alone in the Night'. Please support 
the filmmakers @ http://vo.do/pioneerone 

VODO works directly with filmmakers to bring 
fresh, new films to the filesharing community. 

This work is released under a Creative Commons 
BY-NC-ND license.

We hope you enjoy this VODO release.

                         GREETZ
      ONEDDL - TPB - MININOVA - TORRENTFREAK
   BITTORRENT - FROSTWIRE - ADDIC7ED - TORRENTZ 
  ISOHUNT - YOURBITTORRENT - VUZE - MIRO - SCNSRC
EZTV - SNT - LEGIT TORRENTS - VEEHD - BITLET - SUMO
A little, calm note to the series makers: WHY DON'T YOU COMPRESS THE STANDARD RESOLUTION IN X264 TOO? X264 DOESN'T NEED 720P TO WORK, FFFS!