Since the release of LibreOffice 3.5.0, I've been stuck with this bug, completely preventing me from installing it on one of my PCs.
Error 1935.An error occured during the installation of assembly 'policy.9.0.Microsoft.VC90.CRT,publicKeyToken="1fc8b3b9a1e18e3b",
version="9.0.30729.6161″,processorArchitecture="x86″,
type="win32-policy". Please ref…
(yeah, the error message doesn't even display fully…)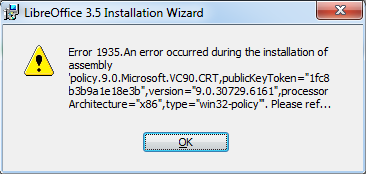 This is a known old issue in the Microsoft Visual C++ runtimes, which I had already encountered when trying to install Graphviz. Microsoft chose to never ever fix it. Graphviz developers chose not to fix it yet (I think). LibreOffice developers haven't fixed it yet (probably also they haven't been able to reproduce it yet).
I got a bit tired of having 2 different versions at home (stuck on 3.4.x) and at work (3.5.1). Of course I can just install the portable version, but 1) it's not really updated very promptly (as of today, 1 week after the release of LibO 3.5.1 PortableApps is still on LibO 3.5.0) and 2) I don't want a portable version, I want an installed version with file associations and everything.
So, I figured I'd just copy the whole LibreOffice folder I got at work and paste it at home. And here it is, LibreOffice 3.5.1 "install-less" (for Windows). As a bonus, it's much smaller than the original installer, down from 200+ MiB to around 78 MiB. The unpacked thing is about 321 MiB.
Note that running this isn't exactly very clean, it's not a portable application and will create various registry entries and data folders, but I assume this will be cleanable eventually when the installer is fixed. And at least, if works perfectly, or so it seems. To "install" it all I had to do was move my old LibreOffice installation and then place the new one at the former place of the old one. This way all start menu links and file associations are transferred to the new version, and also I still have the option to move the old files back to perform an uninstall (that will hopefully be clean enough).
Updates
12 March 2012: here is LibreOffice 3.5.2 install-less.
5 May 2012: here is LibreOffice 3.5.3 install-less. Gosh I hope they'll at least TRY to fix that bloody bug.
12 July 2012: as I mentioned a while ago in the comments, this bug is now (somewhat) fixed: just run the installer from the command line using msiexec /i [installer] VC_REDIST=0 ; this will prevent the installer from trying to install the runtime.