About a week ago, I received an e-mail from Google saying that as a Google Analytics user I might be interested in trying out Adwords, this with a nice 100€ coupon (on a side note, this e-mail was written in French while I've always configured my browser and every Google service to display in English… freaking incompetent localizers…). Remembering the fact that most Adwords coupons I ever saw were rather worth around 50$, I thought this would be a nice opportunity to try to boost a bit my not-yet-famous Wiki4Games.
So here I go. First catch: you need to make a payment of 5€ to activate your account (the coupon can't be used in this purpose). Ok, then I'll pay 5€ and get 105€ of advertising credits. It's not free anymore, but it's still looking good.
Second catch: the minimum payment you can make is 10€… I start hesitating, but after all, it still looks like a good deal and if it's not, at least I'll have something to post here 😉
=> First summary: I got an ad e-mail saying I'd get 100€ of free advertising without anything to pay (the e-mail clearly stated that the 5€ activation fee could be deducted from the 100€ offered), in reality I got 110€ of advertising credits but paid them 10€
Here goes the campaign, not too hard to set up (the "easy" mode is what made me waste a lot of time at the beginning, and now that I switched to the "Standard Edition" – ie the edition not for retards – I have a nice undismissable sticky polluting my Account Snapshop page – see screenshot), and running smooth at start: over 50,000 views within the first 12 hours.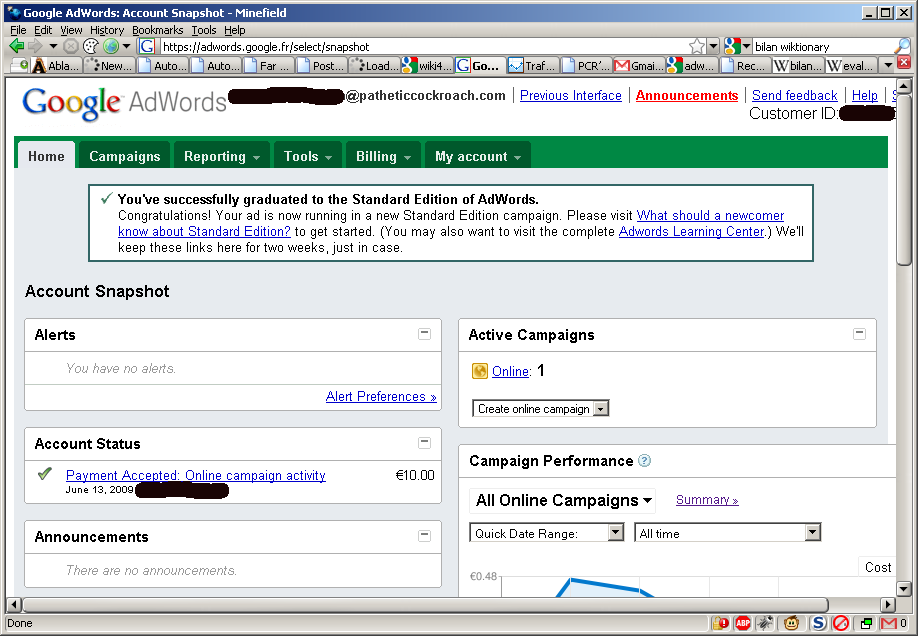 Something that struck me, though, is the very high default CPC: if you use the noob-mode campaign set up, it's around 0.69€ (which, as of today, is pretty close to 1$). But even though I lowered it to 0.10€, the ads displayed fast… at first…
I also chose some keywords to display the ads on some relevant Google Search result pages. Wiki4Games being a video game wiki, I notably chose "video game wiki" and "video games wiki" as keywords. Our current position to these keywords is around 4-5 (see screenshot), over more than 22 millions other results.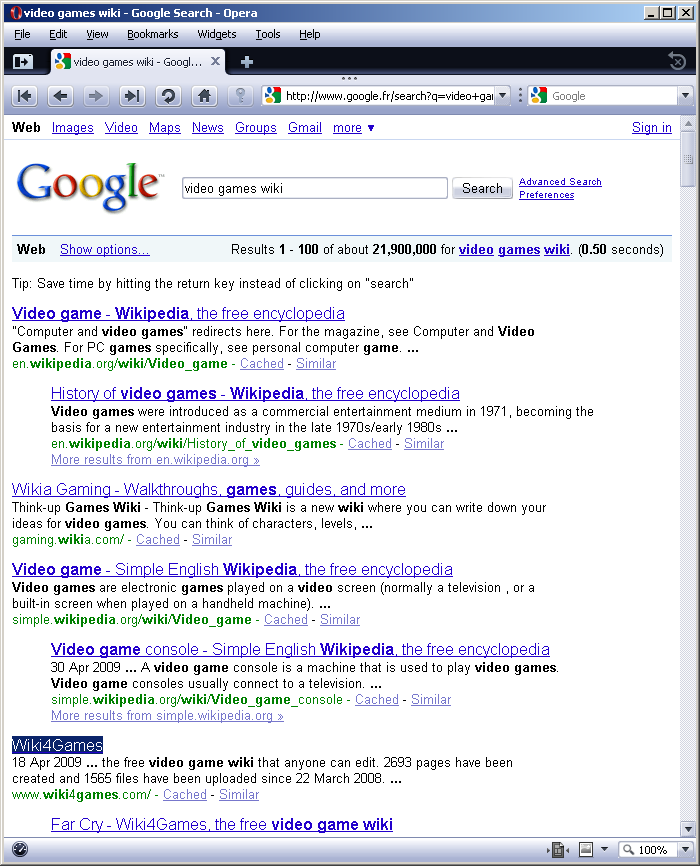 Adwords gently complained that my max CPC bid was a bit too low which would result in a bad placement and fewer impressions, still I got over 75,000 during the first day, then 50,000, then a bit less, and then it fell to almost nothing – less than 900 today (with no impression on Google Search, only impressions on the Adsense network). And the worst part is, Adwords claim my keywords are irrelevant. More precisely, they became irrelevant: during the first days, my keywords were rated 7/10 (one of them was even 10/10). Since 2 days, they are rated 2/10, that's right, my website is in the top 5 over 22,000,000 results for this keyword yet the keyword is irrelevant!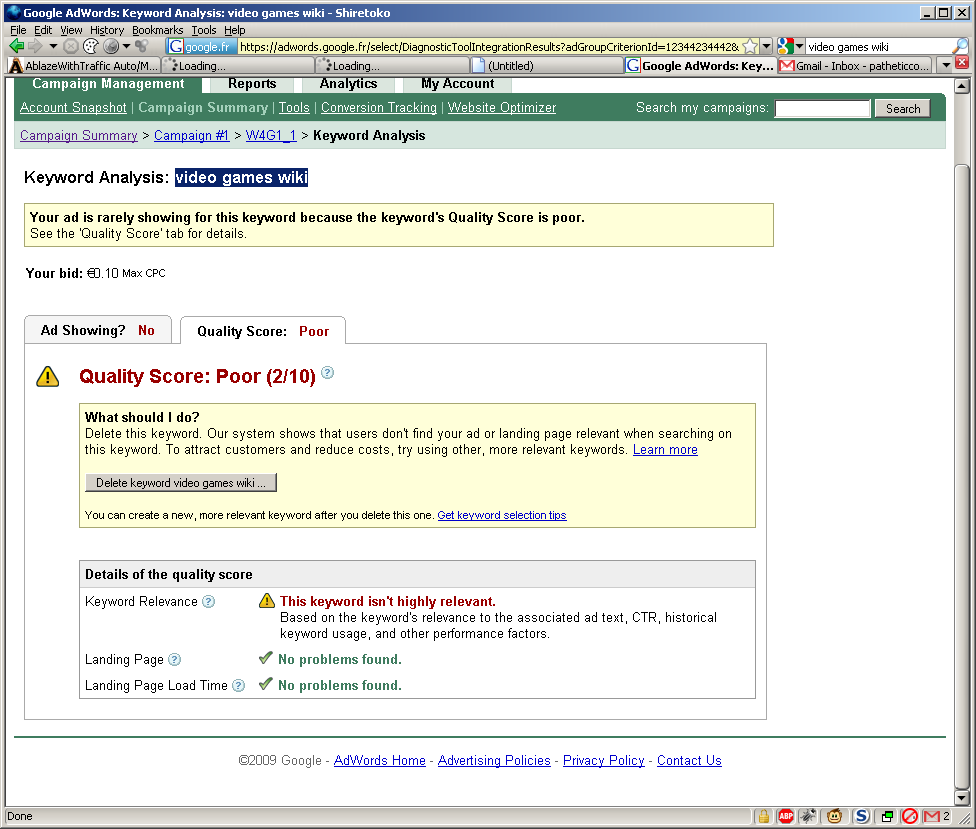 So is Google irrelevant or am I too cheap for them? I guess I'll have to increase my CPC bids and see if my relevance increases too… I'll then see if Google violates the very web neutrality they made so much ado about, or if Adwords just sucks at keywords…
PS: and I forgot to mention, my second ad (pointing to a page about Dune) has been pending for review for 5 days, and counting…
Update on July 31: Dune ad still pending review! (a month and a half after submission!)
Update on Aug 29: The Dune ad was finally approved, at some unknown point in August