I've been developping a tiny Firefox extension since December 2005. Among other resources, I used a tutorial from developer.mozilla.org which stated
It is highly recommended that you use Mozilla Update to distribute your extensions !
Great, this will save my server bandwidth. And also help me promote my extension (did you ever look for an extension elsewhere than on Mozilla Update ?).
I released the first version of my extension on Dec 10, 2005. 9 days later, it was still not approved and I replaced it with a much better version. Here is the approval e-mail :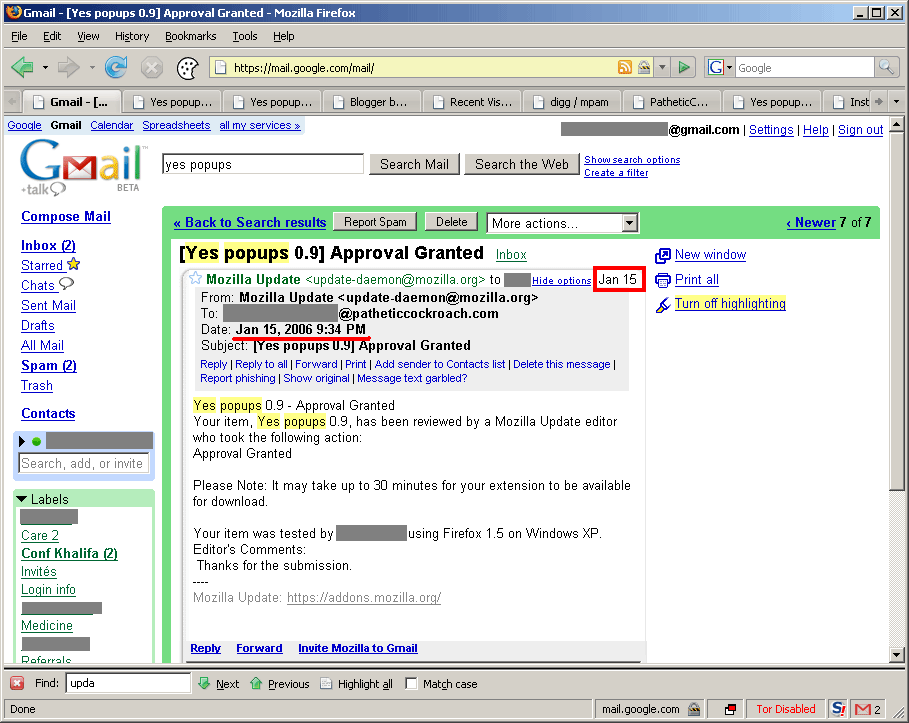 Yes, you got it, it was approved more than 1 month later, on Jan 15, 2006 ! So when you create an extension, don't forget to add an empty month at the end of your release schedule…
The updates after were usually accepted pretty "fast", at least compared to the first delay : 6 days for version 0.9.3, less than 24 hours for 0.9.4 (now this is a really good delay, I admit), 7 days for version 0.9.6.1.
And here comes the latest version, 0.9.7.1. It features a decent amount of new options, and is marked compatible with Fx 2. I submitted it on Sept 17, 2006. Then I waited…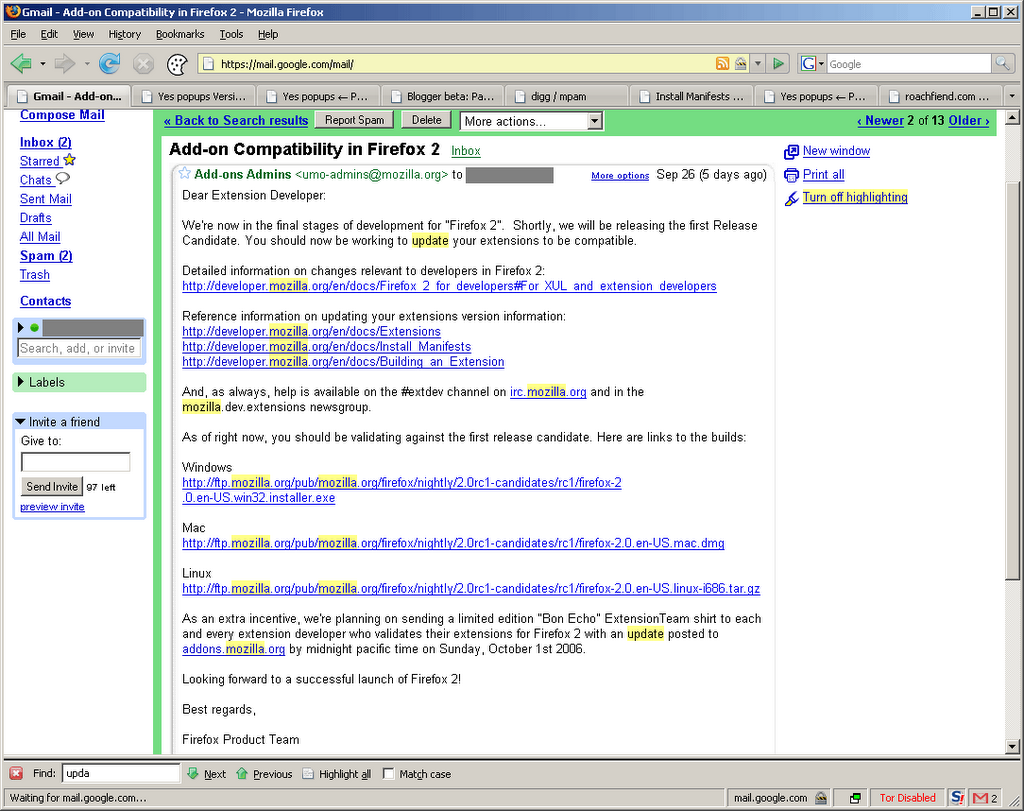 Sweet ! I might get a shirt, but, most important, maybe they'll try to approve my extension faster. Wait, I have new locales, let's send the new version. So I uploaded a version 0.9.7.5 with new locales, and to try to avoid losing my place in the queue, I left the 0.9.7.1 pending for approval too. Well, it had been pending for 9 days, and no more than 2 hours later, I received an answer ! Great, they are really fast with this Fx2 coming. Here is the e-mail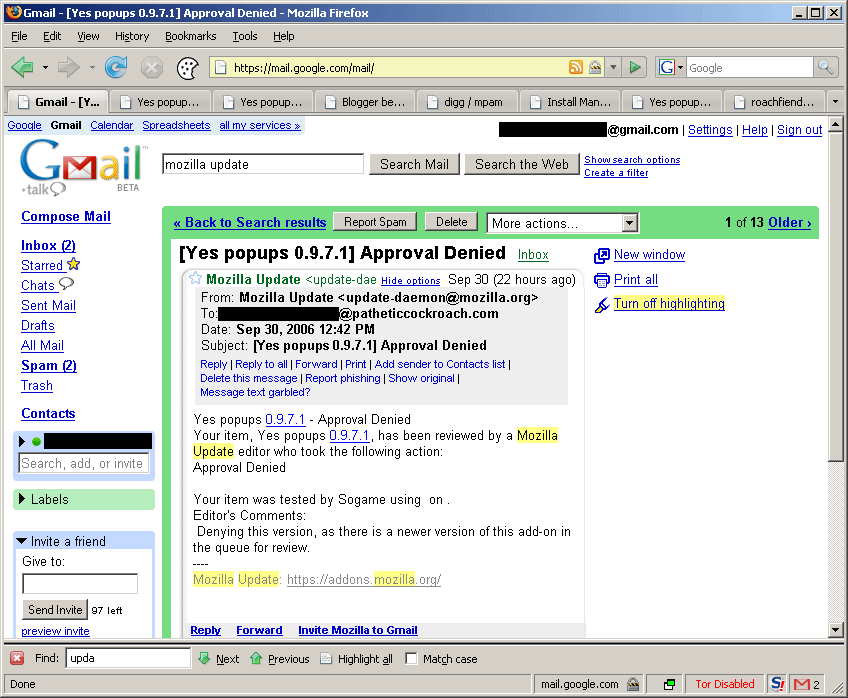 Well, ok, but what about version 0.9.7.5 ? Obviously, it didn't take 0.9.7.1's place in the queue. I just wonder whether 0.9.7.1 was getting closed to being reviewed or if having 2 versions on queue triggered a terminator reviewer… Anyway, my users still can't have a new version. They are using one with few features, and have to manually enforce compatibility with their RC version of Firefox 2. Thank you Mozilla Update, for "automatically mak[ing] [my] newer versions available to users of [my] existing versions when [I] (have) upload(ed) them" more than 1 week ago (how much time would it take should the process not be automatized ?).
In addition Mozilla Update allows users to comment and provide feedback on [my] (outdated) extension.
(source : developer.mozilla.org)
I only have one doubt left : which one will be released first ? My Fx2-compatible version or Fx2 itself ?
They seem to be very concerned about "extension authors who are non-responsive", I say they should be more worried about their extension reviewers…
Update on Oct 11 : Yes popups 0.9.7.5 approved, that's 12 days after submission or 25 days after 0.9.7.1's submission… At least Fx2 isn't out yet 🙂