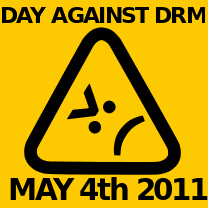 Tomorrow (May 4th) is this year's day against DRM. If you're here you probably know what this is about, but just in case, I'll try to make a short introduction. First, a cartoon by xkcd about content protection: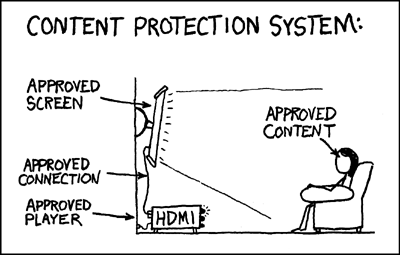 ©
xkcd
This picture is licensed under a
Creative Commons Attribution-NonCommercial 2.5 License
.
It's actually day against DRM pretty much every day here: button at the bottom of the latest comments widget, giveaways on Wiki4Games to win DRM-free games (NB: the second giveaway hasn't ended yet ;)), etc.
DRM (Digital rights management) designates technologies used by companies to restrict your rights to use their software and other digital contents. Why is that bad? Well, basically because it's kind of a step backwards in the digital world for users: it's been hard to make sure all devices can read all formats (it's not exactly achieved though, but let's say we're getting "close enough"), it's been a pain to make lots of Windows software work under Linux (Wine…), etc. And DRM are aiming at doing just the opposite: you can install that only X times, you need a connection to the Internet all the time during which you play that single player game, you need a Live! account to save your progress in that same offline game, etc. Although the latest might be practical were it optional, all these things are degrading the user experience. And worse: they have a cost, that you pay too. When you buy a device or a media impaired by DRM you pay more for a worse user experience, and you feed the system.
Would you buy a Ford car which would only be able to travel while you're connected to the Ford hotline? Probably not. Yet that's the kind of thing you do when you buy DRM-impaired digital contents. Do yourself a favor, do the future a favor: buy DRM-free things.
I'm really rubbish at explaining things in a simple way. So if you're interested in learning more (I hope you are!), here are some good places to go for further reading:
Wikipedia's article on DRM: good for learning about the topic with a neutral point of view, but actually a bit tedious to read. That's Wikipedia, eh 😀
DefectiveByDesign's About page: probably the best place to start if you don't mind a non-neutral POV. Much more enjoyable to read than Wikipedia IMO (and much shorter, too ;))
DRM.info: not neutral either and a bit messy, but has some interesting parts too