GnuPG is a wonderful tool for the paranoiacs. Unfortunately, its installation and configuration is a bit tedious, but Ggp4win, which bundles GnuPG 1.x and 2.x with Kleopatra (along other stuff), makes it easier, as long as you use a tutorial such as this one 😉
However, the user-friendliness still has room for improvement. Sure, various plugins are available, such as Enigmail for Thunderbird, GpgOL for Outlook, or the discontinued FireGPG for Firefox (which most likely got killed by the "everchangingness" of both the Firefox add-on API and Gmail). But what if you just want to use GnuPG to encrypt text in any program, or to verify a signature on a webpage? At the moment, it seems that only Cryptophane can do this, or so I was told, because for some reason it didn't work on my computer. And worse, when I uninstalled it it made such a mess: left all its entries in the registry… So, basically, there seems to be no decent and stand-alone front-end for encrypting, decrypting or signing with GnuPG.
That's been bothering me for a while, and I eventually decided to deal with that issue myself. So, here is a preview version of VisualGPG, a simplistic Graphical User Interface for GnuPG. At the moment it features just the very bare necessities:
encrypting,
signing,
decrypting,
checking signatures.
It can't browse/delete/add keys: that's not its purpose, Kleopatra is already an awesome key manager, we don't need another one.
However, it is able to fetch (on demand) a public key from key server keys.gnupg.net in case it's required to verify a signature.
last but not least: no installer. Just download and run. If you're on Windows XP or such, you'll probably need some .NET Framework (my guess would be version 4.0 since I used Visual Studio 2010).
Update: indeed, you need Microsoft .NET Framework 4, which you can get there. It's a fairly small download, about 15 MiB total.
Here's a screenshot: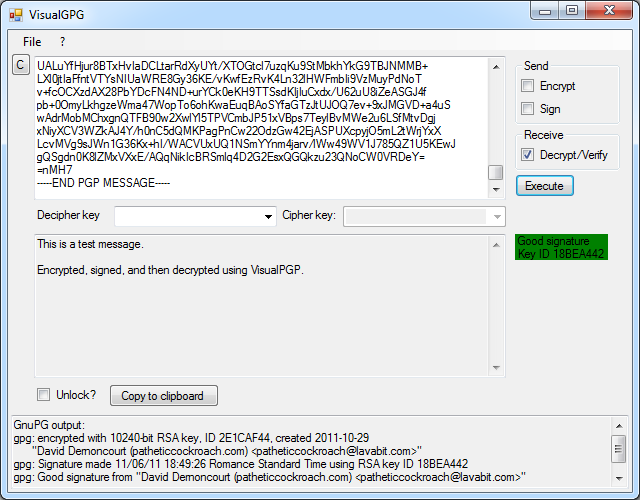 Just a few words before giving you the download link:
In order for VisualGPG to work, you must have GnuPG 2 installed AND in your PATH. The best (or at least, the easiest/quickest) way to meet this requirement is to install Gpg4win, although even then you might have to add GnuPG to the PATH.
Enter your input at the top, choose what you want to do on the right, optionally choose which keys to use, hit execute and voilà.
This is a preview version: the tool works, but is far from polished (there are even some dead debugging boxes left, as well as an empty configuration panel). In its current state, it's good enough for me: I can now quickly write a signed (+/- encrypted) message, or do the reverse operation with text from any place, like a forum, or a webmail or such. So I'll keep working on it only if there is a demand (otherwise I'll just maintain it). If you like the idea / the preview, by all means drop a comment to motivate me :D, or like it on Facebook.
And NEW, here is finally the source code, 3 years later (oops): http://img.patheticcockroach.com/01/VisualGPG-0.1.2.0.7z
Disclaimer: as I probably said in the comments already, that source code is horrible. I didn't have the time to clean it up, still I'm publishing it because I've been postponing that for so long and I think it's more than time I finally release it.
In case you want to try it on a signed message already:
removed
This little program is useless now, GNU Privacy Assistant (GPA) or Kleopatra do this a lot better